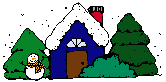 MRS. JIRMEAU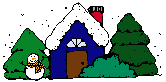 "There is an old, blue house on our street, the same side of the block we live on. It is about five houses east (toward Grandma's) on the corner. You can tell it was built long before the newer homes and probably before our little town was civilized. You may remember it because it is set back in at the rear of the lot -- no backyard, just a large front and side yard. It is Mrs. Jirmeau's house. She married a widower many years back who had five children. She raised them as her own, although she never had any herself. The children are grown and Mr. Jirmeau died, leaving her alone.
Jeremy takes care of her driveway and sidewalk during the winter, and whenever it snows, he's there to dig her out. He usually brushes off her car windows, too. About a month ago, after a snow, Jeremy finished cleaning up and stayed to chat awhile. Her old blue Reliant was parked out front and she mentioned that she needed to buy a new car. Jeremy told her to go all the way and buy a convertible. They both had a good laugh. She tried to pay him $15.00, but he said no, he would only accept $10.00. (This is a boy who will always be poor in dollars, but rich in spirit.)
Two weeks later, Mrs. Jirmeau went into the hospital for by-pass surgery. She died on the operating room table. I still remember the look on Jeremy's face when I told him the news of his customer, his friend. He didn't say anything for a long time. It snowed that night. There was work to be done the next morning. He loaded up the snowblower with gas and pushed it five doors down to pay his last respects."
-From a 1996 personal letter to me from Sis. Debi Wilhoit, Royal Oak Ecclesia, Michigan, U.S.A. (used by permission).
This kind-hearted teenager has now grown into a kind-hearted brother.
---

BACK TO "CUPS OF KINDNESS" PAGE

BACK TO INDEX