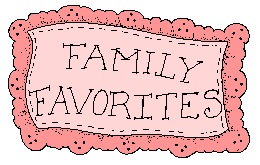 SOUR CREAM RAISIN PIE
Kitchener Ecclesia, Ontario, Canada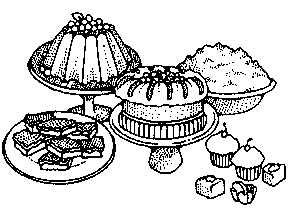 I don't know where I found this recipe, but over the years, it is Jim's absolute favorite!
1 cup sugar
1 1/2 Tbsp. cornstarch
1/4 tsp. cream of tartar
3/4 tsp. each nutmeg and cinnamon
1 can raisin pie filling
4 eggs, separated
1 1/2 cup sour cream
1/4 tsp. salt
2 1/2 Tbsp. lemon juice
1 tsp. vanilla
Blend all dry ingredients. Stir in filling. Beat egg yolks and stir in rest of ingredients. Put in unbaked pie shell. Bake 30 minutes or until set. Beat egg whites until stiff and add 6 Tbsp. brown sugar until very stiff, adding 1/4 tsp. cream of tartar and 1/2 tsp. vanilla. Put on top of cooked pie and bake at 425 degrees for 4-6 minutes.
---

RETURN TO "RECIPES" PAGE

RETURN TO INDEX