SISTERS' CLASS JOURNAL
Houston Ecclesia, Texas, USA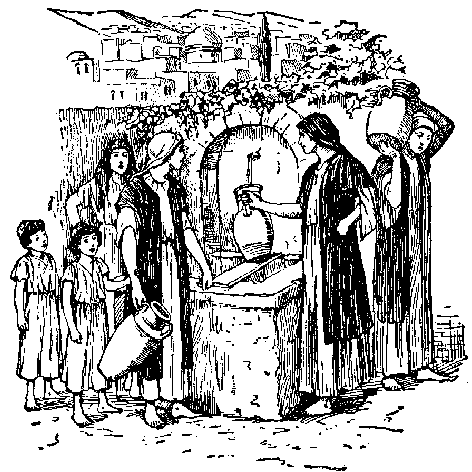 Saturday, August 19, 2000
Perhaps because we were all so eager to start up our Sisters' Study Group after the summer break, we all arrived early and excited at Sis. Teresa Mielke's home. As dedicated as any of us are individually, the edifying studies and projects we are able to accomplish working together is far beyond individual talents or capabilities. It is a good and pleasant thing when we are together.
Sis. Teresa's bright and cheery home welcomed us and reflected our own moods. "Buddy Boy", Sis. Teresa's cockatiel, sang out a hearty welcome song for each of us.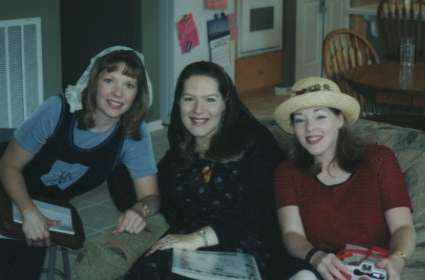 Sis. Teresa Mielke, Sis. Angela Drake and Sis. Tracy Boswell
Getting ready to start our study session
After opening our study session with a prayer, we sang three of the songs that are part of the upcoming Fall Sunday School Choral Program. This helps the mothers help their children to practice the tunes at home. The third song was Sis. Sharon Caroll's inspiring "Have Courage, Fight the Battle!" which was a perfect preamble to focus our minds on the study time to follow. As we began our study time however, "Buddy Boy" had to be banished to the back porch because he did not understand that the rousing singing time was over and it was time to settle down to the quieter study time.
Before we started reading around in the excellent book, Man and Woman, by Bro. Michael Lewis, we read through a portion of the upcoming article on "Sisters' Headcoverings" which is being prepared for this sisters' web site. It was the portion on "The Beautiful Hidden Bride" which is one of our favorite types about the significance of the woman's headcovering. This type tied in beautifully with the rest of our study material in the book, popping out again and again in our discussion. The book led us through the remainder of the verse by verse study taking us from I Cor. 11:6-16.
We discussed how the order set up by Yahweh for the Ecclesial Meetings ties the "headcovering" instruction and the "silence" command for the sisters to His prophetic plan and purpose for the Bride of Christ. We discussed the headship order and how according to the type of the "Hidden Bride" that it is necessary for the women to be in (and willingly take) the lowest place for now in order to be a fit type of the Faithful, Meek, Modest, Concealed, Covered, Silent, Listening Bride in the midst of the Ecclesia, the Body of Christ. Oh the honored privilege bestowed on sisters to show forth within the Body of Christ the attitude of those who will make up the Bride of Christ. Those who quietly and humbly join their Lord in taking the lowest place for now, convinced by faith that in due time they will be exalted - highly exalted. Understanding and believing that when the work of the Ecclesia is complete, the meek ones will indeed inherit the earth and their glory, authority and identity will be revealed to all the earth. But before honor, is humility (Prov. 15:33 and 18:12).
To answer the question of when exactly would these silence and covering instructions be observed, Sis. Rikke directed us to the section "What is an ecclesial meeting?" starting on page 74 in our study book, Man and Woman. This section thoroughly explains the Scriptural principle of "in ecclesia," which we read through together. The explicit guidelines give us practical guidance: The Scriptures consider believers to be "in ecclesia" when the members of the Body of Christ (the ecclesia) are called to come together into one place to worship, learn and/or be comforted.
We closed our study time by singing two more songs from the Sunday School Choral program and with a prayer, giving thanks for our abundant blessings, including the lunch we were about to share together.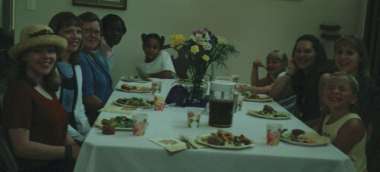 And what a lunch it was! Sis. Teresa had prepared with loving hands an exquisite lunch for her sisters: Teriyaki Chicken Mandarin Salad with sesame dressing, a fresh fruit salad of fresh peaches, kiwi, strawberries and blueberries, and three different muffins: zucchini nut, apple cinnamon crunch, and orange cranberry. There were soft drinks and three different kinds of iced tea. I could not help but smile at the iced tea. This expert display of southern iced tea from a sister who just a year ago moved here to the "South" from the "North" (Michigan) and asked us if we would teach her how to make iced tea. I don't know when I have had a finer lunch - or finer iced tea!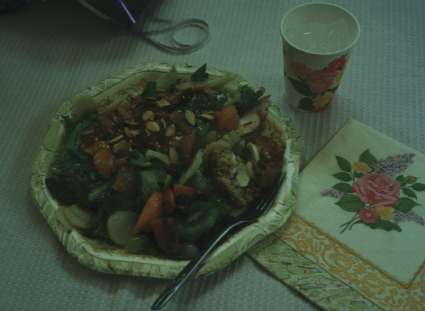 My "full" plate ;-).
Clockwise: Teriyaki Chicken Mandarin Salad,
buttered zucchini muffin, fresh fruit salad.
After lunch we set up in the dining room for our afternoon project. Sis. Angela Drake, the project coordinator, had made up (with Sis. Tracy's help) some very creative and pretty homemade cards and bookmarks for the sisters to finish to send to several who were in need of comfort and encouragement. We started with the bookmarks which had been hand stamped with scriptures, loving sayings and pictures. The tiny details of the handstamps were then colored in with sharp colored pencils. The results were very cheerful and pretty. The bookmarks were then laminated and threaded through the top with a colorful braided cord with a dangling tassel at the end.
We jointly composed the greetings and appropriate Scriptural quotes for each card and carefully wrote them out in our best handwriting, or, as in Sis. Teresa's case, in beautiful calligraphy! After passing all the finished cards around the table for each sister to sign, we tucked a hug and a bookmark into each card.
As an added benefit, many of us found it a very relaxing activity to spend some quiet time coloring in the tiny spaces in the hand stamped images and lettering on the bookmarks. Several of the daughters who accompanied their mothers also joined us at the craft table for the coloring. The table became quieter when we began coloring. Personally, I had to hold my mouth a certain way in order to concentrate on the tiny spaces to color in. This "can't-talk-and-color-at-the-same-time" limitation of mine contributed to the quieter atmosphere ;-).
During this "quiet" coloring time, Shannon, daughter of Sis. Teresa, was concentrating on her bookmark all the while quietly humming to herself one of the Sunday School songs we had all sung together earlier during class. My eyes welled up with tears as I pretended not to notice. I nonchalantly caught the eye of several other sisters who were also enjoying the gentle humming from a child's heart.
Half way through our project, Sis. Teresa set out a moist and light Mandarin Orange Coffee Cake, sugar cookies with sprinkles, and coffee. Those of us who said we could not eat another bite after lunch proved ourselves wrong!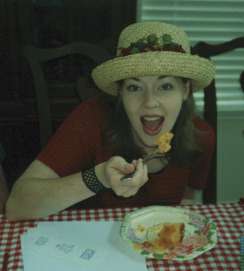 Sis. Tracy between coloring bookmarks
and bites of Mandarin Orange Coffee Cake
We completed our projects and quickly transformed the craft work table back into a dining room before hugging good bye and heading for our homes.
---

BACK TO "SISTERS' CLASS JOURNAL"

BACK TO "THE ECCLESIA" PAGE

BACK TO INDEX