SISTERS' CLASS JOURNAL
Houston Ecclesia, Texas, USA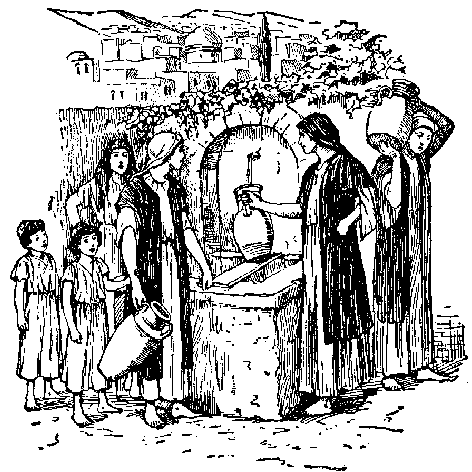 Saturday, December 11, 1999
It was my pleasure to host our Sisters' Study Group in our home. I found that like Sis. Loanne before me, I located many dust bunnies and problem areas I hadn't previously noticed. After 12 years in our home (and 2 children) our walls definitely need repainting, but for now I'll just look at it as having that "well lived-in look". Upon cleaning and reorganizing my kitchen cabinets and drawers, I found several appliances I didn't remember having! It really was a joy preparing my home for a meeting of my beloved and precious Sisters!
Our class got off to a bit of a late start, but for anyone who has been to Houston - the traffic situation is the only thing that changes faster than the weather! Due to our home being on the extreme south side of Houston, several sisters from far north were running late. But we had no trouble tarrying for them and enjoying each other's company. All sisters were able to attend except for two, one that had to work and one who was ill. We missed them and truly hope they will be able to attend our next meeting!
Our class plans were to review the article currently on the Christadelphian Sisters Home Page concerning Scriptural principles relating to "christmas" entitled, "Establishing Truth - Santa Claus", and then to pick up our reading and discussion in the book Man and Woman by Bro. Michael Lewis, in Chapter 9, "The Headcovering". Due to the length of reading and healthy, enlightening discussion on the "christmas" topic, we will have to pick up on our "headcovering" study in our next class, Lord willing.
Our discussion went quite well and I believe was very edifying to all. We have an assortment of backgrounds in this area... those who came into the Truth from the outside having celebrated "christmas" (to the hilt) all their lives (myself being one), those raised in the Truth having celebrated it, and those raised in the Truth having never celebrated it. This is a subject that is very well worth deep consideration and prayer. One that requires an open heart and mind (putting all emotional ties and worldly attachments to the side) and the realization that doing God's will should always be our first consideration. We are thankful that we had this opportunity to look at it together, as Sisters, as keepers of our homes, and as Mothers who must protect and guide our precious children in the Way that they should go.
Before our class began our Sis. Angela Drake was so kind to surprise each of us with yet another beautiful work of her hands: a lovely hand stamped and colored book mark for our study! Every tiny detail is delicately colored in and a loving hand written personal message is added with the date of our class. Each one is even laminated with a pretty colored tassel threaded through the top. I know I will treasure mine!
We opened our study with a lovely prayer given by our Sis. Sharon Glumac and then sang several beautiful hymns together accompanied by Sis. Loanne Clements on her autoharp. It was especially joyful to me because my daughter, Chloe, joined with us for the class (Dad had to work and she was just not interested in watching him work on another computer!). Chloe (who was turning 6 on the 13th of December) knew most of the words to each hymn, and I could barely sing for listening to her, it was one of those mother-daughter moments you know you'll always cherish.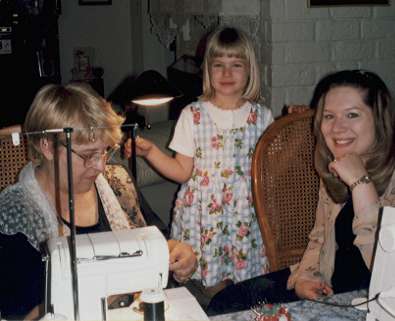 Chloe helping Auntie Nancy and Auntie "Nini" (Angi) with the sewing
After class we enjoyed a lovely lunch together which Sis. Tracy Boswell was so kind to coordinate. We feasted on oriental chicken salad, cucumber sandwiches, ham rolls, sliced provolone and marbled colby/jack cheeses, crackers, an assortment of olives and pickles, a vegetable salad, queso and chips (this is Texas), pink fluff and a variety of other little sweets. It was a wonderful meal together.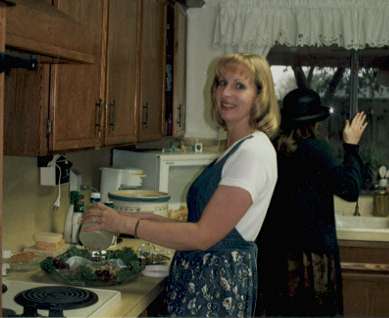 Sis. Rikke scooping out the Oriental Chicken Salad onto a plate garnished with curly lettuce and red grape clusters. That is Sis. Tracy waving from her position at the sink (this is where you will always find her cheerfully singing and serving!)
After lunch we moved on to our activity, which was finishing up our lace headcoverings we began cutting out in our last class. Sis. Nancy Whitehurst was our teacher on the sewing machine and serger, doing most of the work while we sat by and chatted (watching and learning, too, of course!). It was a bonding, loving day together!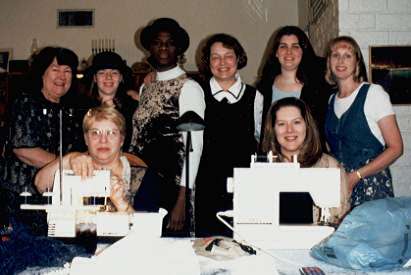 Happy Together :-)
Back l-r: Sis. Billie Jean Clements, Sis. Tracy Boswell, Sis. Sharon Glumac, Sis. Loanne Clements, Sis. Isabel Luff, Sis. Rikke Clements
Front l-r: Sis. Nancy Whitehurst, Sis. Angi Drake
After class, our Sis. Isabel Luff actually sat and rested on the couch (I even saw her close her eyes!). She's our "mommy" with the youngest child and we all know she could use the rest! Sis. Sharon helped me assemble "goodie bags" for Chloe's birthday party on Sunday afternoon, while Sis. Angi helped Chloe stuff her "ice-cream cone" piñata with candy, also for the party. So many precious helping hands, I could really get used to this!
Too soon it was time for everyone to go. It was getting dark and the weather was turning rainy. Husbands were probably starting to wonder where their wives were, especially Bro. Jamie Luff who was exhorting the next morning and had been watching (as the children say) "Baby Nathan"... so much for Isabel's short rest. Yahweh had blessed us with a wonderful study and much needed time together. We all eagerly await our next class, God willing, scheduled for January 22nd, 2000 at our Sis. Isabel's home!
---

BACK TO "SISTERS' CLASS JOURNAL"

BACK TO "THE ECCLESIA" PAGE

BACK TO INDEX