SISTERS' CLASS JOURNAL
Houston Ecclesia, Texas, USA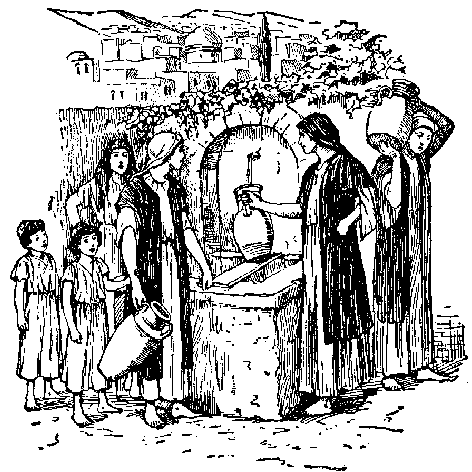 Saturday, October 23, 1999
We commenced a new study today: Bro. Michael Lewis' book on Man and Woman, A Study of Biblical Roles. We call our "class" the "Sisters' Study Group" because we research, study and discuss topics of special interest to Sisters. Our basic study material is taken from Christadelphian books, which are read around in a group fashion with lots of eager group discussion. Because of our keen interest in the subject of a woman's headcovering in the ecclesia we all readily agreed to start on Chapter 9, which is an excellent and thorough Scriptural rendering of this beautiful topic.
The Sisters' Study Group meets every six weeks on a Saturday rotating in the homes of the sisters. We open with a hymn, have our study and discussion session, close with a prayer, and enjoy a lunch together followed by an activity.
I was privileged to host today's class in my home. This was a good opportunity to look at the condition of my house with a different perspective. How could I have overlooked all the little messes and dust bunnies? I was actually surprised with what I "saw". Tell me, how is it that the bottom of the cabinet under the kitchen sink gets so dirty when all that is stored there are cleaning supplies??!
After peeking into the refrigerator with my new "eyes", I ended up totally cleaning it out top to bottom and washing out the bins and shelves. It was easy to see that my food pantry was all out of alignment and I enjoyed putting everything back in food groups (I had just bought a new bag of sugar thinking I was out, but I "found" one and a half bags buried in the back of the pantry!) I ended up with a big bag of "duck food". We have a large duck pond near our house and all "stale" bread, crackers, cereal, etc. go to the "duck food" bag. After cleaning out the pantry I am recommitted to being a better manager of the food that I buy and bring home. Much of the "duck food" could have been used in a more timely fashion if I had paid closer attention to it. I also cleaned out my kitchen "junk" drawer. I now have many home projects and maintenance items on my list which probably would have been overlooked if I had not hosted the Sisters' Study Group in my home. I'm glad for this opportunity to have my eyes reopened and thus my home fires rekindled.
The sisters started arriving at 10 minutes to 11:00 a.m. filling the house with sweet smiles, hugs and laughter. The first thing most of them did was head for the (clean :-)) refrigerator to put up their lunch trays of sandwiches, fruit, relish, etc. The kitchen was a happy greeting place. The lunch safely stored, we all headed for the parlor to open with the singing of the lovely song, "As the Deer" which sounded so beautiful with the gentle voices. With that unifying beginning we took our places around the dinning room table to begin our study session.

Sis. Billie Clements, Sis. Nancy Whitehurst, Little Nathan Luff,
Sis. Loanne Clements and Sis. Isabel Luff
As we say in Texas, we are just "fixin" to start our study session
The first half of our study time we spent in a very edifying review and discussion of the Scriptural principles relating to (and casting a very dark shadow on) "Halloween". We then began our new study of "Headcoverings" by each reading a few paragraphs from the Man and Woman book, and then looking up the Scriptures and discussing the points presented therein. We have a very studious and serious-minded group of sisters that comes pre-prayed and pre-read. This adds greatly to a well-rounded and edifying study session.
At the close of our study we join hands as we close with a prayer and give thanks for our lunch, and the love and unity we hold so dear with one another.
The sisters brought a fabulous lunch prepared with loving hands. We had ham roll ups, cheese cubes, cucumber sandwiches, chicken salad sandwiches, chips, a relish tray, a vegetable and dip tray, stuffed eggs, fruit salad, pink fluff and pettifors that were so large we called them "mega-fors." Sis. Angela Drake does a great job as the lunch coordinator. We have found having a sister coordinate the lunch really helps as we have a wide variety with little waste. An added benefit comes out of the lunch coordinator's contacting all the sisters regarding the lunch plans as she then lets the hostess and the activity coordinator know exactly how many sisters will be attending. (This week every sister attended except for two that were out of town.)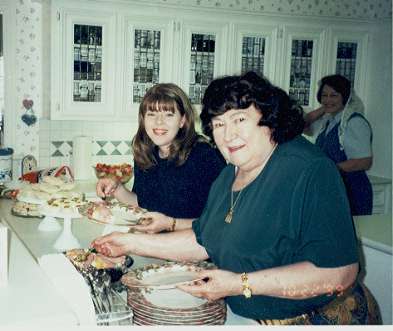 Sisters Tracy Boswell and Billie Clements
Lunch is served!
During lunch Sis. Angi Drake surprised us with a little craft gift that she had made for each of us. It is a little picket fence with some bees and lady bugs painted here and there on it filled with dainty colorful silk flowers with a tiny bird on top. What a sweet keepsake!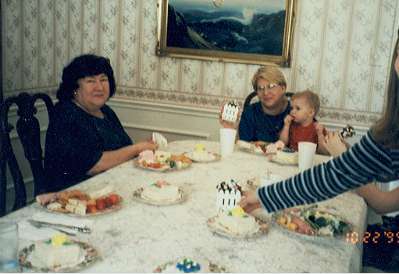 Another fun thing we did after lunch was drawing the winner of the "little prize". This "little prize" is wrapped up pretty and is just that - something small and that only costs one or two dollars. Upon arrival each sister finds her name on preprinted little pieces of paper and folds it up and puts it in a jar. This week's winner was Sis. Tracy and the "little prize" was a plastic mayonnaise knife for making sandwiches.
After lunch, Sis. Nancy Whitehurst expertly coordinated our activity of making new headcoverings. What a pleasant way to spend an afternoon! The dining room table was cleared to become the pattern making and material cutting work table. The kitchen table held two portable sewing machines and a serger. What an efficient production crew we became. I don't know which was louder, the humming of the sewing machines or the happy laughter and chatter of the sisters. I especially enjoyed seeing the different sewing baskets of my dear sisters. They were each such a personal expression of our quiet womanly vocations.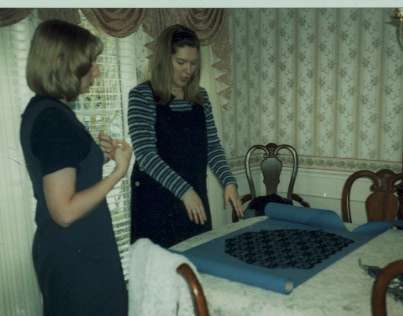 Sisters Rikke Clements and Angela Drake creating patterns
think~think~think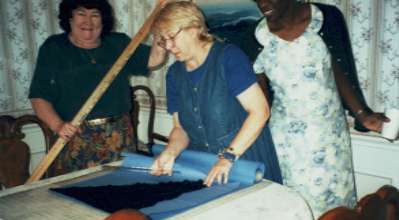 Sisters Billie Clements, Nancy Whitehurst and Sharon Glumac
Putting their heads together on a pattern
(Sorry you can't see all of Sis. Sharon's lovely face, maybe one of our next learning activities should be "picture taking"!)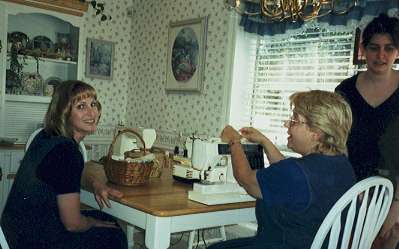 Sisters Rikke Clements, Nancy Whitehurst and Isabel Luff
At the sewing table
After lunch I found Sis. Sharon Glumac (a plant expert) in my back yard watering, pruning and relocating to a proper sunnier spot a floundering wisteria plant that was in need of her "help". We each have talents that allow us to "see" different areas that could use our own specialized talents. How very much good can be accomplished when we each offer in love our individual insights and talents that richly contribute to a strong and cared-for unit.
Around 4:00 p.m. we started getting calls from kids missing their mommys and from the dads who were missing their kids' mommys, so we started packing up and loading up the cars, all the while looking forward to our next Sisters' Study Group meeting on December 11, Lord willing.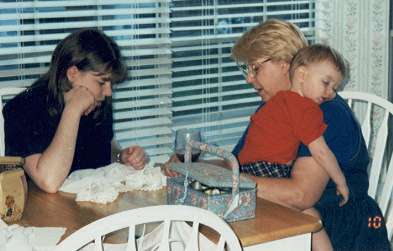 I just couldn't resist adding this picture! This is after the cars were all loaded and most everyone was gone. Sis. Nancy was still at it helping Sis. Tracy with her special trim. The older sisters teaching the younger sisters - it's God's Way.
---

BACK TO "SISTERS' CLASS JOURNAL"

BACK TO "THE ECCLESIA" PAGE

BACK TO INDEX