SISTERS' CLASS JOURNAL
Houston Ecclesia, Texas, USA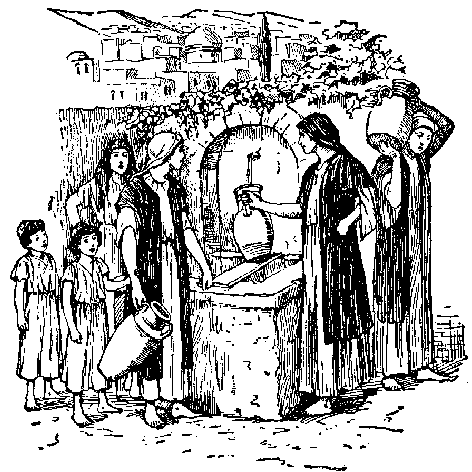 Saturday, January 22, 2000
Our Sisters' Study Group was hosted this week in the home of Sis. Isabel Luff. Since we all live at distant ends of this large city, many of us travel together to our Sisters' Study Group meetings. I picked up Sis. Angi and Sis. Tracy from the West end of Houston and the actual hour of driving time seemed much shorter because of our singing along together with the new "Shalom" CD and our discussing together our study material on the "headcovering" subject. Sis. Sharon and daughter Bethel, and Sis. Billie rode in with Sis. Rikke and her daughter Chloe from the South side. The rest of the sisters drove in individually from the North end of Houston.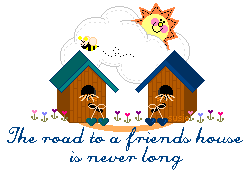 When we arrived car by car at Sis. Isabel's house we were all greeted by an excited and happy "Baby Nathan", and welcoming happy hugs from Sis. Isabel and her mother, Sis. Nancy. Besides "Baby Nathan", four of our Sister's daughters also attended: Rebecca Thibodeaux, Bethel Glumac, Shannon Mielke, and Chloe Clements. We love including these precious daughters in our class and appreciated the interest and attention they showed in our study session. I can remember when Sis. Nancy and I used to attend Sisters' Classes years ago with our own young daughters. It's such a blessing to have this history with our daughters, who are now active young sisters in the Truth. I'm happy these young mothers and daughters can also keep this cycle going, producing memories of happy times together learning of God's love, seeking to help others, and working, praying, singing, and playing together.
"Give ear, O my people, to my law: incline your ears to the words of my mouth . . . which we have heard and known, and our fathers have told us. We will not hide them from their children, showing to the generation to come the praises of Yahweh, and his strength, and his wonderful works that he hath done." Psa. 78 1-4

Sis. Teresa Mielke and daughter, Shannon
Sis. Isabel opened our study with prayer and then accompanied us on the piano as we sang Hymns 311 and 101. I thought the tune of Hymn 101 especially suited the gentle female voices. I never thought of this before I suppose because most of the time our hymn singing combines into the "one voice" of both our brothers and our sisters.
We commenced our study by reading around on Chapter 9, "The Headcovering" in the excellent book Man and Woman, by Bro. Michael Lewis. We finished the section on "The Old Testament Background." Our extended discussion was excellent. Several sisters had the question of when exactly should a sister wear a head covering - public worship is clear but what about private worship? Sis. Rikke answered by reading from Bro. Ron Abel's book, "Let Her be Covered" which details the Scriptural solution. Basically, "The instructions of 1 Cor. 11 relate to [all] ecclesial meetings not to private prayer." He goes on to say that "should a sister wish to extend the wearing of her head covering from public to private worship, this is her liberty. . ." Several sisters mentioned that they knew of sisters that made it a personal practice to cover their heads when private prayers were given. We all considered this a lovely and honorable practice. To me, this voluntary practice (of extending the wearing of an head covering from public to private worship) openly witnesses an outward evidence of an inward position of dedication and desire to fill the sphere of life designated by God's order. (Of course this is the same open witness of an inward position when the sisters obey the headcovering "ordinance" in public worship.)
We closed our class by singing Hymn 313 followed by a prayer by our Sis. Nancy. After we closed, Sis. Isabel surprised each of us with a cute little teddy bear scene sculpted in glass with different sayings of love and friendship. Then Sis. Angi presented each of us with a ribbon and lace-covered glass globe filled with potpourri and topped with a scented candle that she had made (with loving hands). We are thoroughly spoiled by our kind and loving sisters!
We also had our drawing for the "little prize" which this week was a small decorated writing pad with the saying "God loves it when we share." Sis. Tracy's name was drawn but she said that since she had already won one of the previous little prizes that she would draw out another name. She drew "Sis. Billie" and presented the little prize to her. Those that know Sis. Tracy know that she is happier giving a prize away than receiving one anyway!
All at once we decided we were hungry and piled into our cars (in record time). We proceeded in a caravan led by Sis. Teresa to eat lunch at the British Tea Room in Old Town Spring, about 10 minutes from Sis. Isabel's house. We all thoroughly enjoyed a delicious and delicate lunch. I had black current iced tea, chicken and spinach crepes with mushroom sauce, and a large salad with the best honey mustard dressing I have ever tasted (more honey than mustard). It was so good I would have eaten it with a spoon as a cold soup! We all lingered at lunch enjoying each other and the gentle atmosphere a bit longer. The little girls among us (and the little girls in all of us old girls!) seemed to really enjoy the quaintness of the tea room's feminine decor.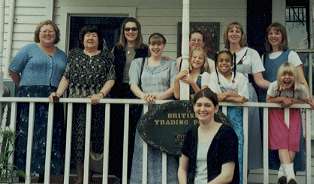 Part of our group on the porch of the British Tea Room
The obvious excitement of the young girls added to our enjoyment!



After lunch, since we all obviously needed a walk, we strolled around the quaint little shops of Old Town Spring. There was one dress shop we all especially enjoyed because the dresses there are old-fashioned, feminine and modest ("down to the foot"). I had a wonderful time watching as different sisters came out of the dressings rooms in the many lovely and appropriate dresses. While some were not just right because of size, two sisters found dresses that were stunning. I'll always remember this enjoyable day we spent together every time I see them wearing these dresses.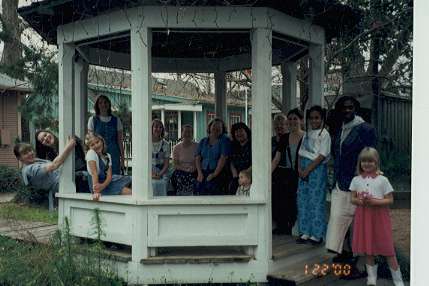 Taking a quick break from shopping!
Chloe Clements on the far right is holding a wildflower bouquet she picked for her mother.
Yes, those are "cowgirl" boots she is wearing! This is Texas!
We parted with long hugs and good-byes in the parking lot after sharing together what everyone was planning to cook for our "shared-lunch" after meeting on Sunday.
Our next Sisters' Study Group meeting will be held, Lord willing, on March 4 at the home of Sis. Angela Drake.
---

BACK TO "SISTERS' CLASS JOURNAL"

BACK TO "THE ECCLESIA" PAGE

BACK TO INDEX