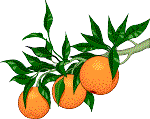 ORANGE PUMPKIN COFFEE CAKE

Kitchener Ecclesia, Ontario, Canada















Coffee cakes are one of my favorite things to make - so homey somehow!
2 1/2 cups brown sugar
1 cup oil
4 large eggs
1 cup sour cream
1 can (2 cups) pumpkin
1 Tbsp. grated orange peel (rind)
1/2 tsp. allspice
1 tsp. ground ginger
3 cups flour
2 tsp. baking soda
3 tsp. cinnamon
1/2 tsp. salt
2 tsp. baking powder
2/3 cup orange juice
1/2 cup nuts
1/2 cup chocolate chips or chopped ginger
In large mixer, beat sugar, oil and eggs. Stir in sour cream, pumpkin and peel. Stir together in another bowl all the dry ingredients. Add to creamed mixture, alternately with orange juice. Fold in nuts and chocolate chips or ginger. Pour batter into oiled bundt pan and bake at 350 degrees for 45 minutes.
ORANGE GLAZE
1 1/2 c. icing sugar
1 tsp. grated orange peel
1-2 Tbsp. orange juice
Mix until smooth. Drizzle over cooled cake.
---

RETURN TO "RECIPES" PAGE

RETURN TO INDEX