OATMEAL CRISPS WITH DATE FILLING
Sis. Patty Robinson
Kitchener Ecclesia, Ontario, Canada
~~~~~~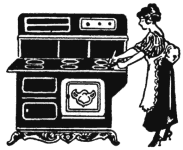 ~~~~~~
This is a recipe that Jim's mum, Vera Robinson, used to make a lot and everyone loved them. I changed it a bit, by adding almond extract instead of vanilla.
1 1/4 cup pastry flour
1/4 tsp. baking powder and soda
1/4 tsp. salt
1 1/4 cup oats
1/2 cup margaring or shortening
1 tsp. grated lemon rind
1/2 cup brown sugar
1 well-beaten egg
1 tsp. almond extract
Sift together first 3 ingredients. Add oats. Add margarine or shortening and grated lemon rind. Work in until crumbly. Add sugar and egg. Chill. Roll out thin. Cut out and bake at 350 degrees on oiled cookie sheet or waxed paper until crisp, about 10-12 minutes. Makes 2 dozen, if cut with 2" round cutter.
FILLING
1 cup chopped dates
3/4 cup water
1 tsp. lemon juice
1/4 cup sugar
Put in saucepan or microwavable bowl. Bring to a boil and simmer until smooth and thick. Put between cooled cookies, but not too thickly, or it squishes out!
---

RETURN TO "RECIPES" PAGE

RETURN TO INDEX