I worked for many years at our Christadelphian Olivet Aged Care Home in Melbourne, Australia. One very fond memory I have is of a very elderly and dear sister, Sis. Flo Pearson, who liked to read a poem at the annual concert that was held at the end of the year. Although she has long since fallen asleep in Christ, I can even still hear her faltering voice as she read out this poem:
The Skilled Musician
He passeth His hand o'er the harp strings
With skill and with tenderness too;
His ear notes a string that needs tight'ning,
That string may be me or be you.

Again and again He doth touch it
'Till reached is the pitch that is best;
If one string is lacking in tension
It surely doth mar all the rest.

Then forth from the harp that He playeth
There cometh such music so sweet;
It riseth and falleth in volume
As best the Musician thinks meet.

But hark! There's a pause in the music,
He tight'neth some string still the more:
Then fuller and deeper and sweeter
The music doth sound than before.

Thus, thus is the music proceeding,
Produced with a skill that's Divine;
Not ONCE is a harp string e'er broken
Though tension be ever so fine."
-F.W. Upson
Submitted in loving memory of Sis. Flo Pearson
by Sis. Liz Surgenor
Watagans Ecclesia, New South Wales, Australia

"Every believer in God, at one time or another, must endure trials. How he or she responds to those trials will be of eternal consequence. Sometimes the reasons for those trials are obvious; other times they seem to be "without rhyme or reason"...But in every case, without exception, they are necessary, and God knows the purpose even if we do not at the time."
"For whom the Lord loveth He chasteneth...No chastening for the present seemeth to be joyous but grievous; nevertheless afterward it yeildeth the peacable fruit of righteousness unto them which are exercised thereby." (Heb 12, 6-11).
"True it is God who brings about the affliction - but His motive is a righteous one. God has done this for the ultimate greater good of the individual and of the righteous remnant. The godly...understand and appreciate this motive:
"But though He cause grief, yet will He have compassion according to the multitude of His mercies. For He doth not afflict willingly nor grieve the children of men." (Lam. 3:31-33)
(The Lamentations of Jeremiah, G. Booker and T. Haltom).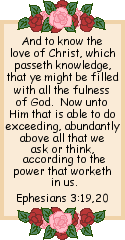 BACK TO "CUPS OF KINDNESS" PAGE

BACK TO INDEX