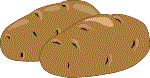 SCALLOPED HAM AND POTATOES
White Salmon Ecclesia, Washington, USA













This dish is worth all the chopping work.
Ingredients:
1/4 cup dry bread crumbs
2 tablespoons snipped fresh parsley
1 tablespoon butter, melted
1 (8 oz.) package diced cooked ham (1 1/2 cups) - 2 cups of chopped ham is even better.
1/2 cup chopped onion
1/2 cup chopped green pepper
1 (2 oz.) jar sliced pimiento, drained
4 medium potatoes, peeled and thinly sliced (4 cups) - be sure the potatoes are sliced *thin* and uniform
1 (10 3/4 oz.) can Cheddar cheese soup (or Cream is mushroom is also delicious.)
1/2 cup milk (buttermilk is also delicious)
1 cup grated sharp cheddar cheese
Sour cream to serve on the side
Preparation:
Combine bread crumbs, parsley and butter; blend well and set aside. Combine ham, onion, green pepper and pimiento; stir to combine. In a 2-quart round casserole, layer half of ham mixture and half of potatoes. Repeat layers. Combine soup and milk; pour over potatoes. Cover and bake in a 350 degree oven for 45- 55 minutes or until lightly browned. (Test potatoes for tenderness.) Uncover, add cheese and sprinkle reserved bread crumb mixture on top. Bake an additional 15 minutes or until cheese is melted and crumbs are crisp and golden brown.
Remove from oven and let stand uncovered for 10 minutes before serving. Serve with sour cream.
This dish can be prepared in the morning and refrigerated until time to bake.
Makes 6 servings.
---

RETURN TO "RECIPES" PAGE

RETURN TO INDEX