Sis. Isabel Landis' Tea Cakes
(Mama's Tea Cakes)
Houston Ecclesia, Texas, U.S.A.

This is my mother's recipe for tea cakes. They are tender and soft little cakes that have just a hint of sweetness. Mama had 10 children and made these often for us. She would even overcook and dry out a few to make hard teething biscuits for the babies.
The pictures below show my son, Bro. Brett Clements, and my grandson, Bro. Nathan Clements, baking up six batches of Mama's Tea Cakes recently at the home of my son, Bro. Michael, and my daughter-in-law, Sis. Loanne. Mama would be happy to see her grandson and her great-grandson still making her tea cakes for the family.
2 cups sugar
1 cup Crisco (vegetable shortening)
3 eggs
1 cup milk
2 heaping tsp. baking powder
2 tsp. vanilla
2 cups flour
Mix together sugar and Crisco. Mix together eggs, milk and vanilla. Slowly add egg/milk mixture to sugar/Crisco mixture, stirring thoroughly between additions to remove lumps. You can use an electric hand mixer for easier lump removal (but Mama had to stir the lumps out by hand). Sift together flour and baking powder. Slowly stir in flour mixture. Add additional flour as necessary to form a soft dough ball.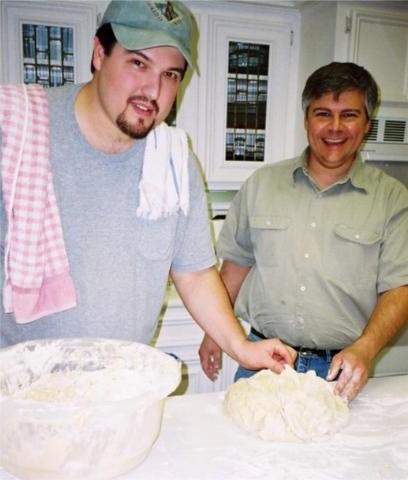 Everyone says that the hard thing about this recipe is knowing when you have added just the right amount of extra flour to make the dough rollable. Bro. Brett (who is the family expert on Mama's Tea Cakes) shows Bro. Nathan how to feel when the dough is just right.
Turn dough ball out onto a lightly floured surface and kneed a few times to make it soft and rollable. Roll out to 1/4"+ thick. Cut tea cakes 3 1/2" in diameter. Place tea cakes about 1/2" apart on a greased and floured (or parchment/silpat lined) cookie sheet.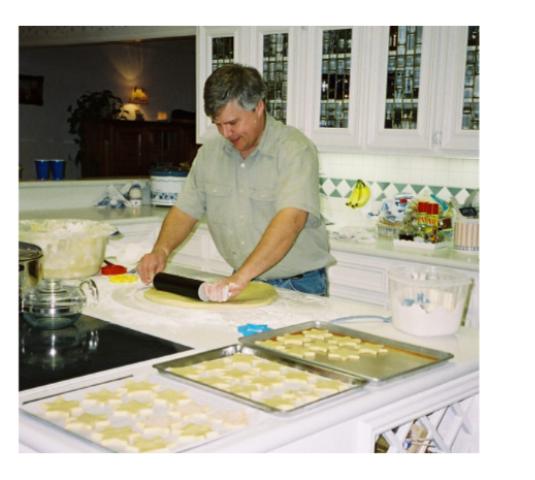 These cookie sheets are lined with parchment paper and a Silpat baking liner, but Mama just greased and floured her cookie sheet.
Bake in a 350 degree F oven for approximately 15 minutes or until white tea cakes just barely start to brown around the edges. Some members of my family sprinkle the tea cakes with cinnamon sugar before baking, or ice them with a sugar glaze icing after cooling. But Mama always just served hers plain.
This recipe makes approximately 35 large tea cakes. Mama served hers with tea, but they are also delicious with coffee or milk.
---

RETURN TO "RECIPES" PAGE

RETURN TO INDEX