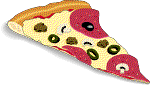 Pizza Pasta Salad
Westerly Ecclesia, Rhode Island, U.S.
~~~~~~~~~~~~~~~~~~~~~
Very good pasta salad. Not the same old, same old.
1 pound spiral macaroni cooked and drained
3 medium tomatoes diced and seeded
1 pound cheddar cheese diced
1 bunch green onions (to 2 bunches) sliced
3 ounces pepperoni slices
3/4 cup vegetable oil
2/3 cup Parmesan cheese grated
1/2 cup red wine vinegar
2 teaspoons dried oregano
1 teaspoon garlic powder
1 teaspoon salt
1/4 teaspoon pepper
croutons optional
In large bowl, combine macaroni, tomatoes, cheddar cheese, green onions and pepperoni. In small bowl, combine oil, Parmesan cheese, vinegar and seasonings; pour over macaroni mixture.
Cover and refrigerate for several hours.
Top with croutons just before serving if desired.
---

RETURN TO "RECIPES" PAGE

RETURN TO INDEX