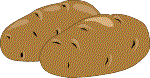 Savory Roast Potatoes
San Diego County Ecclesia, California, USA












This recipe comes from my grandmother, who is Latvian, and it is one of my most cherished recipes. These savory roast potatoes are something a dinner at my Grandmother's house is never without. Easy and very good. Serve this side dish with your roast meats.
8 large baking potatoes, peeled (can cut these in half to make 16 smaller ones)
1/2 cup butter (or margarine)
1 Tbs. seasoned salt (or just Kosher or sea salt will do)
1/2 cup chicken broth (or water is fine)
chopped parsley or paprika (for garnish)
Preheat oven to 350F. Melt butter in baking pan. Roll potatoes in butter to coat well. Sprinkle all over with salt. Bake UNcovered for 1 hour. Turn Potatoes, add broth and bake 1/2 hr - 45 min. longer, turning several times. Sprinkle with parsley or paprika at serving.
Happy eating!
May we all soon join in feast together with our Lord!
Much love,
Sis. Diamond

[I tried this recipe and these are some of the best tasting potatoes I've ever eaten. Leave it to a grandmother to know how to make something so simple as potatoes into something terrific! -LC]
---

RETURN TO "RECIPES" PAGE

RETURN TO INDEX