PEANUT BUTTER TREATS

Quick and Easy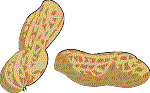 Sister Debi Wilhoit
Royal Oak Ecclesia, Michigan







This recipe is soooo rich, but soooo good! Sis. Ginny Muniz has made it several times and brought it to the hall. She says it does not work out well with low fat peanut butter.
[Sis. Debi recently sent a batch of these to my family when her daughter, Sis. Katie, came for a visit. They are wonderful (and all gone)! - L.C.]
1 Cup Peanut Butter
1 1/2 Cups Graham Cracker crumbs
2 sticks butter
3 Cups Confectioners (powered) Sugar
12 oz. Bag Chocolate Chips
Mix all ingredients except the chocolate chips. Press into a 13" x 9" pan. Melt chocolate chips in the microwave. Spread over the top. Chill in refrigerator, then cut into squares.
---

RETURN TO "RECIPES" PAGE

RETURN TO INDEX