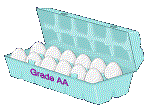 BREAKFAST PIZZA
Westerly Ecclesia, Rhode Island, U.S.A.
---
1 tube 8 oz refrigerated crescent rolls
(or I use 1 tube of Pillsbury Pizza Crust, be sure to prebake according to directions before filling.)
1 lb. bulk pork sausage
(or you can substitute two 6.4 oz. pkgs. of Healthy Choice Low Fat Breakfast Sausage cut in tiny pieces. Since these are fully cooked, it saves time and the frying mess, as well as fat!)
1 cup frozen shredded hash brown potatoes, thawed
(or you can use 1 cup of frozen Ore Ida Potatoes O'Brien which have onions and peppers, or add your own onions, peppers, etc. to taste.)
1 cup (4 oz) shredded cheddar cheese (I use low fat cheese)
3 eggs (I use egg beaters)
1/4 cup milk
1/4 teaspoon pepper
1/4 cup grated Parmesan cheese
Unroll crescent dough and place on a greased 12-in. pizza pan; press seams together and press up sides of pan to form a crust. In a skillet, brown sausage over medium heat; drain and cool slightly. Sprinkle sausage, hash browns and cheddar cheese over crust. In a bowl, beat eggs, milk and pepper; pour over pizza. Sprinkle with Parmesan cheese. Bake at 375 degrees for 28-30 minutes or until golden brown. Let stand 10 minutes before cutting.
Kids love this pizza - adults too! It makes a great Sunday Morning breakfast, when everyone is rushed and eats at a different time, as you can set it out with fruit and juice/milk and your household and guests can grab a quick slice whenever they are ready. It can also be placed on a napkin and eaten on the way to meeting. Leftovers are delicious reheated, so if you make it for Saturday morning breakfast (and leftovers don't get eaten for lunch or midnight snack) you will be all set for Sunday morning breakfast.
---

RETURN TO "RECIPES" PAGE

RETURN TO INDEX