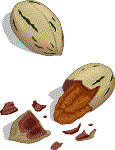 PECANS GALORE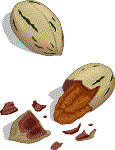 Kitchener Ecclesia, Ontario, Canada
---
This is very sweet and very fattening! A small piece goes a long way.

CRUST:

1/2 cup unsalted butter, softened

1/2 cup sugar

1/4 tsp. salt

Mix until light and fluffy.

At low speed, add 2 large eggs, then 2 1/2 cups flour until smooth. Pat into bottom and sides of a 15 1/2" x 10" x 1" jelly-roll pan. Heat oven to 350 degrees. Line pastry with foil and fill with dried beans. Bake 30 min. until lightly browned. Remove foil and beans. Cool.

FILLING:

Reduce oven temperature to 325 degrees. Combine 2 cups unsalted butter (cut up), 16 oz. brown sugar, 2/3 cup honey, 1/2 cup sugar and 1/4 tsp. salt. Bring to boil and boil 5 min., stirring. Stir in 2 lbs. chopped pecans and 1/2 cup heavy cream. Pour filling over crust. Bake 25 min. until filling is bubbly.
---

RETURN TO "RECIPES" PAGE

RETURN TO INDEX