HAMBURGER PIE
Victoria (McKenzie) Ecclesia, British Columbia, Canada

Filling:
A/
1 lb. Ground beef - cooked and drained
B/
Fry these ingredients lightly in vegetable oil:
1 medium onion
2-3 stalks celery
2-3 cloves garlic finely minced and/or pressed
1 can mushrooms
Just at the end of the frying add the spices to taste
paprika, sage, thyme, oregano, marjoram, salt, pepper
C/
2-3 large potatoes diced and cooked
2-3 carrots diced and cooked.
Mix A/B/C in a large bowl. Season with worchester sauce and 2-3 dashes of Tabasco to flavor. If the filling tastes good cold, it's great once it's baked. Cool the filling completely. Makes about 2 - 8" pies. (see pastry recipe to follow)
Roll out your pastry and split the filling between the two pies. Brush the outer edge of the bottom crust with egg mixture. To make neat vents in the tops of the pies, fold the top in half and cut decorations with a knife.
When you unfold the top on top of the pie the images will be mirrored and look professional. Pinch the edges closed tightly. I use my two thumbs facing one inwards and one outwards right against each other (it's easier to show this than to describe it!), then squeeze the outward facing thumb down toward the pie's center and it closes the pastry's edge into a type of scallop. Looks great. Brush the top of both pies with one egg beaten slightly. Then sprinkle with salt. Bake for one hour at 350 degrees Fahrenheit. Great served hot or cold. Keeps in the fridge for up to a week. Microwave reheats nicely too.



Pastry: (never fails)
A/
Chop together:
1 lb. lard
4 1/2 - 5 cups all purpose flour
2 tsp. salt
B/
In a one cup measuring cup:
one egg - lightly beaten
1 tsp. white vinegar
cold water to the 1 cup level
Add B to A with a fork and then knead until it sticks together. Separate into five sections. Will make five 2 crust pies. Place in ziplock bags and flatten then freeze. When you want to use it, take out a package; when you can dent it with your finger, it can be worked.

For fruit pies, brush the top of the pies with milk rather than egg and sprinkle with sugar. Under the top crust put pats of butter on top of the filling before putting on the top. To prevent the bottom crust from getting soggy, put a layer of white sugar down on the bottom of the pie then put in the filling. Bake for one hour at 350 degrees Fahrenheit. The longer baking at a lower temperature makes sure that the bottom of the pie cooks too.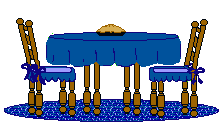 We used this pastry recipe in my husband's parent's restaurant up in the central BC in Burns Lake. We had long-haul truckers reorganizing their routes so they could stop in at Wheeler's Restaurant for pie. One trucker used to buy the whole pie and return the pie plate on his way back!
---

RETURN TO "RECIPES" PAGE

RETURN TO INDEX