HONEY JOYS

Mildura Ecclesia, Victoria, Australia
---
My boys love this one - even my big boy!!
1 tablespoon honey
2 tablespoons sugar
3 tablespoons butter (or marg)
4-5 cups cornflakes
Place butter, honey and sugar in saucepan. Bring to the boil and cook for one minute. Remove from heat and stir in cornflakes. Place in paper patty pans and bake in moderate oven for 8-10 minutes until slightly brown. When cold they will be very crisp.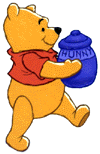 ---

RETURN TO "RECIPES" PAGE

RETURN TO INDEX