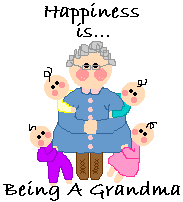 "Grandchildren"
One of the joys that comes with old age,
And blesses a man and his wife,
Is the blessed event, when a daughter or son,
Receives a new "Bundle of Life."

The children of children are the crown of old men,
Saith Proverbs, Seventeen: Six.
And I'm sure this applies to a woman as well.
If it doesn't, she's sure in a fix.

Our little grandchildren are as sweet as can be.
And we love them with all our heart.
When they come for a visit, we spoil them, I know.
And we sure hate to see them depart.

When one of them climbs with a smile to my knee,
Saying, "Pappy, I really love you,"
It fills my old heart with pleasure so great,
That I simply don't know what to do.

You can have all your mansions,
your silver and gold,
All the pleasure of traveling, too.
But if I am loved by a little grandchild,
I'm a hundred times richer than you.