Here you can relax and gather peace as you think on whatsoever things are true, honest, just, pure, lovely, of good report, of virtue and of praise. (Philippians 4:8-9)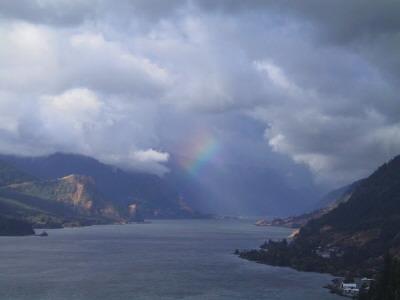 (Photo by Sis. Loanne Clements, White Salmon Ecclesia, Washington, USA)

God
Numbers 14:17 And now, I beseech thee, let the power of my Lord be great, according as thou hast spoken, saying, 18 The LORD is longsuffering, and of great mercy, forgiving iniquity and transgression, and by no means clearing the guilty, visiting the iniquity of the fathers upon the children unto the third and fourth generation. 19 Pardon, I beseech thee, the iniquity of this people according unto the greatness of thy mercy, and as thou hast forgiven this people, from Egypt even until now. 20 And the LORD said, I have pardoned according to thy word: 21 But as truly as I live, all the earth shall be filled with the glory of the LORD.

Numbers 23:19 God is not a man, that he should lie; neither the son of man, that he should repent: hath he said, and shall he not do it? or hath he spoken, and shall he not make it good?

Deuteronomy 7:9 Know therefore that the LORD thy God, he is God, the faithful God, which keepeth covenant and mercy with them that love him and keep his commandments to a thousand generations.

Deuteronomy 10:17 For the LORD your God is God of gods, and Lord of lords, a great God, a mighty, and a terrible, which regardeth not persons, nor taketh reward: 18 He doth execute the judgment of the fatherless and widow, and loveth the stranger, in giving him food and raiment.

Deuteronomy 29:29 The secret things belong unto the LORD our God: but those things which are revealed belong unto us and to our children for ever, that we may do all the words of this law.

1 Samuel 2:2 There is none holy as the LORD: for there is none beside thee: neither is there any rock like our God.

2 Samuel 7:22 Wherefore thou art great, O LORD God: for there is none like thee, neither is there any God beside thee, according to all that we have heard with our ears.

2 Samuel 22:31 As for God, his way is perfect; the word of the LORD is tried: he is a buckler to all them that trust in him. 32 For who is God, save the LORD? and who is a rock, save our God?

2 Samuel 22:51 He is the tower of salvation for his king: and sheweth mercy to his anointed, unto David, and to his seed for evermore.

1 Kings 8:60 That all the people of the earth may know that the LORD is God, and that there is none else.

1 Chronicles 16:27 Glory and honour are in his presence; strength and gladness are in his place.

1 Chronicles 16:34 O give thanks unto the LORD; for he is good; for his mercy endureth for ever.

1 Chronicles 29:10 Wherefore David blessed the LORD before all the congregation: and David said, Blessed be thou, LORD God of Israel our father, for ever and ever. 11 Thine, O LORD is the greatness, and the power, and the glory, and the victory, and the majesty: for all that is in the heaven and in the earth is thine; thine is the kingdom, O LORD, and thou art exalted as head above all. 12 Both riches and honour come of thee, and thou reignest over all; and in thine hand is power and might; and in thine hand it is to make great, and to give strength unto all. 13 Now therefore, our God, we thank thee, and praise thy glorious name.

2 Chronicles 16:9 For the eyes of the LORD run to and fro throughout the whole earth, to shew himself strong in the behalf of them whose heart is perfect toward him.

Nehemiah 1:5 And said, I beseech thee, O LORD God of heaven, the great and terrible God, that keepeth covenant and mercy for them that love him and observe his commandments.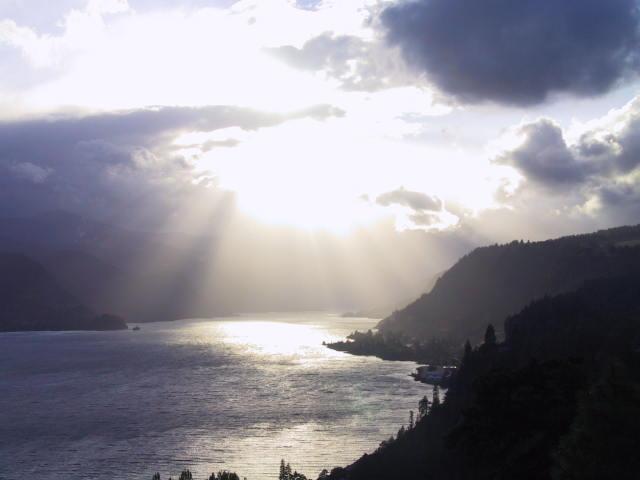 (Photo by Bro. Nathan Clements, White Salmon Ecclesia, Washington, USA)
Nehemiah 9:6 Thou, even thou, art LORD alone; thou hast made heaven, the heaven of heavens, with all their host, the earth, and all things that are therein, the seas, and all that is therein, and thou preservest them all; and the host of heaven worshippeth thee.

Job 12:10 In whose hand is the soul of every living thing, and the breath of all mankind.

Job 12:13 With him is wisdom and strength, he hath counsel and understanding. 14 Behold, he breaketh down, and it cannot be built again: he shutteth up a man, and there can be no opening. 15 Behold, he withholdeth the waters, and they dry up: also he sendeth them out, and they overturn the earth. 16 With him is strength and wisdom: the deceived and the deceiver are his. 17 He leadeth counsellors away spoiled, and maketh the judges fools. 18 He looseth the bond of kings, and girdeth their loins with a girdle. 19 He leadeth princes away spoiled, and overthroweth the mighty. 20 He removeth away the speech of the trusty, and taketh away the understanding of the aged. 21 He poureth contempt upon princes, and weakeneth the strength of the mighty. 22 He discovereth deep things out of darkness, and bringeth out to light the shadow of death. 23 He increaseth the nations, and destroyeth them: he enlargeth the nations, and straiteneth them again. 24 He taketh away the heart of the chief of the people of the earth, and causeth them to wander in a wilderness where there is no way. 25 They grope in the dark without light, and he maketh them to stagger like a drunken man.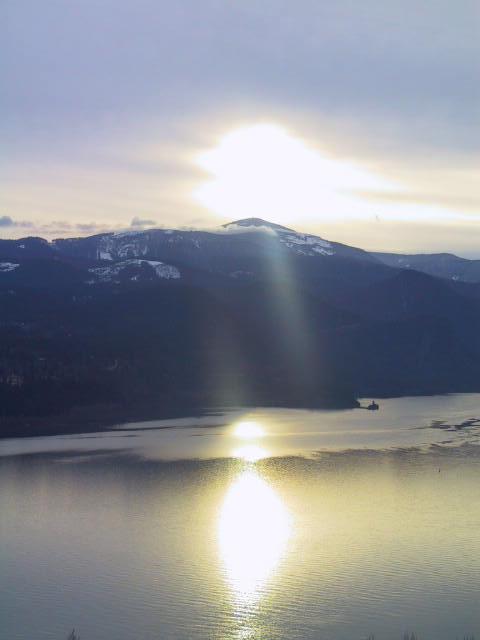 (Photo by Sis. Loanne Clements, White Salmon Ecclesia, Washington, USA)
Psalms 36:9 For with thee is the fountain of life: in thy light shall we see light.

Psalms 45:6 Thy throne, O God, is for ever and ever: the sceptre of thy kingdom is a right sceptre.

Psalms 48:14 For this God is our God for ever and ever: he will be our guide even unto death.

Psalms 86:5 For thou, Lord, art good, and ready to forgive; and plenteous in mercy unto all them that call upon thee.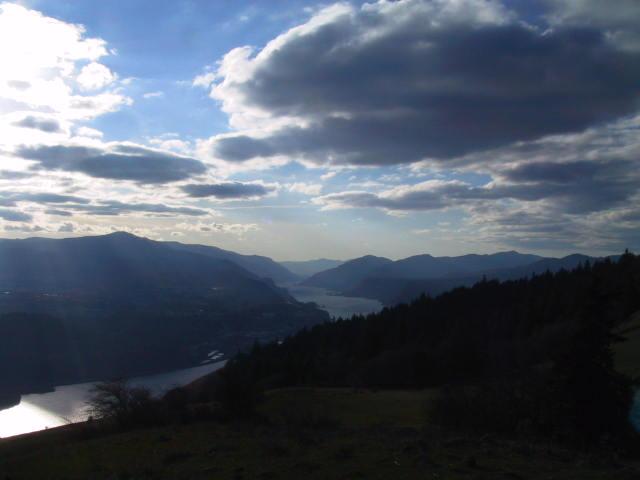 (Photo by Sis. Tracy Boswell, White Salmon Ecclesia, Washington, USA)
Psalms 90:2 Before the mountains were brought forth, or ever thou hadst formed the earth and the world, even from everlasting to everlasting, thou art God.

Psalms 90:4 For a thousand years in thy sight are but as yesterday when it is past, and as a watch in the night.

Psalms 92:15 To shew that the LORD is upright: he is my rock, and there is no unrighteousness in him.

Psalms 93:2 Thy throne is established of old: thou art from everlasting.

Psalms 103:8 The LORD is merciful and gracious, slow to anger, and plenteous in mercy. 9 He will not always chide: neither will he keep his anger for ever. 10 He hath not dealt with us after our sins; nor rewarded us according to our iniquities. 11 For as the heaven is high above the earth, so great is his mercy toward them that fear him. 12 As far as the east is from the west, so far hath he removed our transgressions from us. 13 Like as a father pitieth his children, so the LORD pitieth them that fear him. 14 For he knoweth our frame; he remembereth that we are dust.

Psalms 103:17 But the mercy of the LORD is from everlasting to everlasting upon them that fear him, and his righteousness unto children's children.

Psalms 118:1 O give thanks unto the LORD; for he is good: because his mercy endureth for ever.

Psalms 119:160 Thy word is true from the beginning: and every one of thy righteous judgments endureth for ever.

Psalms 121:2 My help cometh from the LORD, which made heaven and earth. 3 He will not suffer thy foot to be moved: he that keepeth thee will not slumber. 4 Behold, he that keepeth Israel shall neither slumber nor sleep.

Psalms 130:4 But there is forgiveness with thee, that thou mayest be feared.

Psalms 130:7 Let Israel hope in the LORD: for with the LORD there is mercy, and with him is plenteous redemption. 8 And he shall redeem Israel from all his iniquities.

Psalms 132:13 For the LORD hath chosen Zion; he hath desired it for his habitation. 14 This is my rest for ever: here will I dwell; for I have desired it. 15 I will abundantly bless her provision: I will satisfy her poor with bread. 16 I will also clothe her priests with salvation: and her saints shall shout aloud for joy.

Psalms 136:1 O give thanks unto the LORD; for he is good: for his mercy endureth for ever.

Psalms 139:7 Whither shall I go from thy spirit? or whither shall I flee from thy presence? 8 If I ascend up into heaven, thou art there: if I make my bed in hell, behold, thou art there. 9 If I take the wings of the morning, and dwell in the uttermost parts of the sea; 10 Even there shall thy hand lead me, and thy right hand shall hold me. 11 If I say, Surely the darkness shall cover me; even the night shall be light about me. 12 Yea, the darkness hideth not from thee; but the night shineth as the day: the darkness and the light are both alike to thee. 13 For thou hast possessed my reins: thou hast covered me in my mother's womb. 14 I will praise thee; for I am fearfully and wonderfully made: marvellous are thy works; and that my soul knoweth right well. 15 My substance was not hid from thee, when I was made in secret, and curiously wrought in the lowest parts of the earth. 16 Thine eyes did see my substance, yet being unperfect; and in thy book all my members were written, which in continuance were fashioned, when as yet there was none of them. 17 How precious also are thy thoughts unto me, O God! how great is the sum of them!

Psalms 145:8 The LORD is gracious, and full of compassion; slow to anger, and of great mercy. 9 The LORD is good to all: and his tender mercies are over all his works.

Psalms 145:14 The LORD upholdeth all that fall, and raiseth up all those that be bowed down.

Psalms 145:18 The LORD is nigh unto all them that call upon him, to all that call upon him in truth. 19 He will fulfil the desire of them that fear him: he also will hear their cry, and will save them. 20 The LORD preserveth all them that love him: but all the wicked will he destroy.

Psalms 146:8 The LORD openeth the eyes of the blind: the LORD raiseth them that are bowed down: the LORD loveth the righteous: 9 The LORD preserveth the strangers; he relieveth the fatherless and widow: but the way of the wicked he turneth upside down. 10 The LORD shall reign for ever, even thy God, O Zion, unto all generations. Praise ye the LORD.

Psalms 147:11 The LORD taketh pleasure in them that fear him, in those that hope in his mercy.

Proverbs 8:17 I love them that love me; and those that seek me early shall find me.

Ecclesiastes 3:14 I know that, whatsoever God doeth, it shall be for ever: nothing can be put to it, nor any thing taken from it: and God doeth it, that men should fear before him.

Isaiah 30:18 And therefore will the LORD wait, that he may be gracious unto you, and therefore will he be exalted, that he may have mercy upon you: for the LORD is a God of judgment: blessed are all they that wait for him.

Isaiah 40:8 The grass withereth, the flower fadeth: but the word of our God shall stand for ever.

Isaiah 40:13 Who hath directed the Spirit of the LORD, or being his counsellor hath taught him? 14 With whom took he counsel, and who instructed him, and taught him in the path of judgment, and taught him knowledge, and shewed to him the way of understanding? 15 Behold, the nations are as a drop of a bucket, and are counted as the small dust of the balance: behold, he taketh up the isles as a very little thing. 16 And Lebanon is not sufficient to burn, nor the beasts thereof sufficient for a burnt offering. 17 All nations before him are as nothing; and they are counted to him less than nothing, and vanity.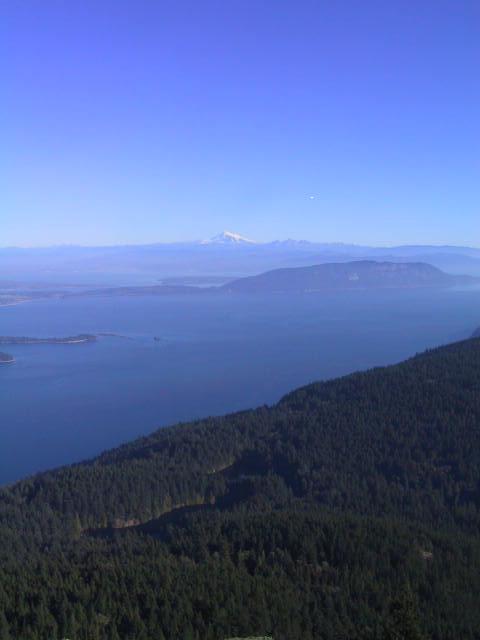 (Photo by Sis. Loanne Clements, White Salmon Ecclesia, Washington, USA)
Isaiah 40:22 It is he that sitteth upon the circle of the earth, and the inhabitants thereof are as grasshoppers; that stretcheth out the heavens as a curtain, and spreadeth them out as a tent to dwell in: 23 That bringeth the princes to nothing; he maketh the judges of the earth as vanity. 24 Yea, they shall not be planted; yea, they shall not be sown: yea, their stock shall not take root in the earth: and he shall also blow upon them, and they shall wither, and the whirlwind shall take them away as stubble. 25 To whom then will ye liken me, or shall I be equal? saith the Holy One.

Isaiah 40:28 Hast thou not known? hast thou not heard, that the everlasting God, the LORD, the Creator of the ends of the earth, fainteth not, neither is weary? there is no searching of his understanding.

Isaiah 42:8 I am the LORD: that is my name: and my glory will I not give to another, neither my praise to graven images. 9 Behold, the former things are come to pass, and new things do I declare: before they spring forth I tell you of them.

Isaiah 43:10 Ye are my witnesses, saith the LORD, and my servant whom I have chosen: that ye may know and believe me, and understand that I am he: before me there was no God formed, neither shall there be after me. 11 I, even I, am the LORD; and beside me there is no saviour. 12 I have declared, and have saved, and I have shewed, when there was no strange god among you: therefore ye are my witnesses, saith the LORD, that I am God. 13 Yea, before the day was I am he; and there is none that can deliver out of my hand: I will work, and who shall let it?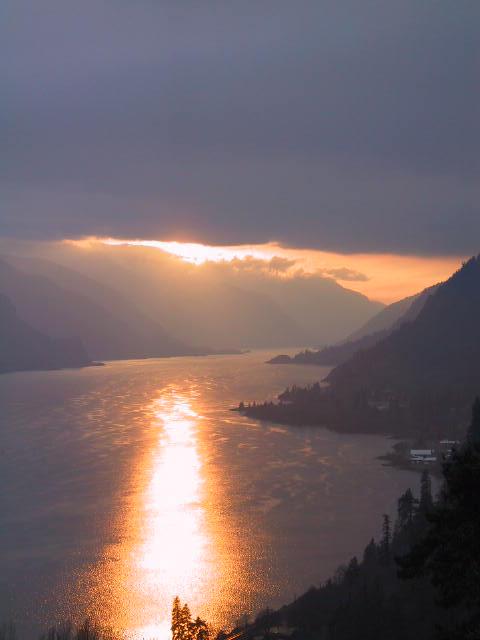 (Photo by Sis. Loanne Clements, White Salmon Ecclesia, Washington, USA)
Isaiah 45:5 I am the LORD, and there is none else, there is no God beside me: I girded thee, though thou hast not known me: 6 That they may know from the rising of the sun, and from the west, that there is none beside me. I am the LORD, and there is none else. 7 I form the light, and create darkness: I make peace, and create evil: I the LORD do all these things.

Isaiah 45:21 Tell ye, and bring them near; yea, let them take counsel together: who hath declared this from ancient time? who hath told it from that time? have not I the LORD? and there is no God else beside me; a just God and a Saviour; there is none beside me. 22 Look unto me, and be ye saved, all the ends of the earth: for I am God, and there is none else. 23 I have sworn by myself, the word is gone out of my mouth in righteousness, and shall not return, That unto me every knee shall bow, every tongue shall swear.

Isaiah 46:9 Remember the former things of old: for I am God, and there is none else; I am God, and there is none like me, 10 Declaring the end from the beginning, and from ancient times the things that are not yet done, saying, My counsel shall stand, and I will do all my pleasure: 11 Calling a ravenous bird from the east, the man that executeth my counsel from a far country: yea, I have spoken it, I will also bring it to pass; I have purposed it, I will also do it. 12 Hearken unto me, ye stouthearted, that are far from righteousness: 13 I bring near my righteousness; it shall not be far off, and my salvation shall not tarry: and I will place salvation in Zion for Israel my glory.

Isaiah 48:12 Hearken unto me, O Jacob and Israel, my called; I am he; I am the first, I also am the last. 13 Mine hand also hath laid the foundation of the earth, and my right hand hath spanned the heavens: when I call unto them, they stand up together.

Isaiah 49:7 Thus saith the LORD, the Redeemer of Israel, and his Holy One, to him whom man despiseth, to him whom the nation abhorreth, to a servant of rulers, Kings shall see and arise, princes also shall worship, because of the LORD that is faithful, and the Holy One of Israel, and he shall choose thee.

Isaiah 55:6 Seek ye the LORD while he may be found, call ye upon him while he is near: 7 Let the wicked forsake his way, and the unrighteous man his thoughts: and let him return unto the LORD, and he will have mercy upon him; and to our God, for he will abundantly pardon. 8 For my thoughts are not your thoughts, neither are your ways my ways, saith the LORD. 9 For as the heavens are higher than the earth, so are my ways higher than your ways, and my thoughts than your thoughts. 10 For as the rain cometh down, and the snow from heaven, and returneth not thither, but watereth the earth, and maketh it bring forth and bud, that it may give seed to the sower, and bread to the eater: 11 So shall my word be that goeth forth out of my mouth: it shall not return unto me void, but it shall accomplish that which I please, and it shall prosper in the thing whereto I sent it.

Isaiah 57:15 For thus saith the high and lofty One that inhabiteth eternity, whose name is Holy; I dwell in the high and holy place, with him also that is of a contrite and humble spirit, to revive the spirit of the humble, and to revive the heart of th e contrite ones. 16 For I will not contend for ever, neither will I be always wroth: for the spirit should fail before me, and the souls which I have made.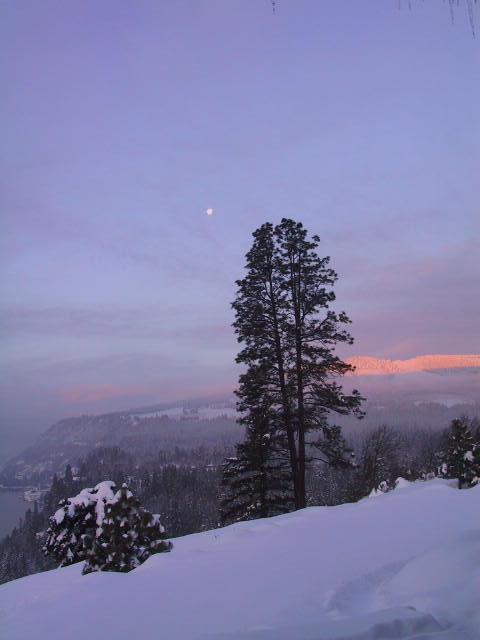 (Photo by Sis. Loanne Clements, White Salmon Ecclesia, Washington, USA)
Isaiah 60:19 The sun shall be no more thy light by day; neither for brightness shall the moon give light unto thee: but the LORD shall be unto thee an everlasting light, and thy God thy glory. 20 Thy sun shall no more go down; neither shall thy moon withdraw itself: for the LORD shall be thine everlasting light, and the days of thy mourning shall be ended.

Isaiah 64:8 But now, O LORD, thou art our father; we are the clay, and thou our potter; and we all are the work of thy hand.

Jeremiah 17:10 I the LORD search the heart, I try the reins, even to give every man according to his ways, and according to the fruit of his doings.

Jeremiah 32:17 Ah Lord GOD! behold, thou hast made the heaven and the earth by thy great power and stretched out arm, and there is nothing too hard for thee: 18 Thou shewest lovingkindness unto thousands, and recompensest the iniquity of the fathers into the bosom of their children after them: the Great, the Mighty God, the LORD of hosts, is his name, 19 Great in counsel, and mighty in work: for thine eyes are open upon all the ways of the sons of men: to give every one according to his ways, and according to the fruit of his doings: 20 Which hast set signs and wonders in the land of Egypt, even unto this day, and in Israel, and among other men; and hast made thee a name, as at this day;

Jeremiah 32:27 Behold, I am the LORD, the God of all flesh: is there any thing too hard for me?

Jeremiah 33:11 The voice of joy, and the voice of gladness, the voice of the bridegroom, and the voice of the bride, the voice of them that shall say, Praise the LORD of hosts: for the LORD is good; for his mercy endureth for ever: and of them that shall bring the sacrifice of praise into the house of the LORD. For I will cause to return the captivity of the land, as at the first, saith the LORD.

Ezekiel 18:24 But when the righteous turneth away from his righteousness, and committeth iniquity, and doeth according to all the abominations that the wicked man doeth, shall he live? All his righteousness that he hath done shall not be mentioned: in hi s trespass that he hath trespassed, and in his sin that he hath sinned, in them shall he die. 25 Yet ye say, The way of the Lord is not equal. Hear now, O house of Israel; Is not my way equal? are not your ways unequal?

Daniel 2:20 Daniel answered and said, Blessed be the name of God for ever and ever: for wisdom and might are his: 21 And he changeth the times and the seasons: he removeth kings, and setteth up kings: he giveth wisdom unto the wise, and knowledge to them that know understanding: 22 He revealeth the deep and secret things: he knoweth what is in the darkness, and the light dwelleth with him. 23 I thank thee, and praise thee, O thou God of my fathers, who hast given me wisdom and might, and hast made known unto me now what we desired of thee: for thou hast now made known unto us the king's matter.

Daniel 4:34 And at the end of the days I Nebuchadnezzar lifted up mine eyes unto heaven, and mine understanding returned unto me, and I blessed the most High, and I praised and honoured him that liveth for ever, whose dominion is an everlasting dominio n, and his kingdom is from generation to generation: 35 And all the inhabitants of the earth are reputed as nothing: and he doeth according to his will in the army of heaven, and among the inhabitants of the earth: and none can stay his hand, or say unto him, What doest thou?

Daniel 9:4 And I prayed unto the LORD my God, and made my confession, and said, O Lord, the great and dreadful God, keeping the covenant and mercy to them that love him, and to them that keep his commandments.

Malachi 3:6 For I am the LORD, I change not; therefore ye sons of Jacob are not consumed.

Mark 10:27 And Jesus looking upon them saith, With men it is impossible, but not with God: for with God all things are possible.

Luke 1:37 For with God nothing shall be impossible.

Luke 1:49 For he that is mighty hath done to me great things; and holy is his name. 50 And his mercy is on them that fear him from generation to generation.

Acts 17:24 God that made the world and all things therein, seeing that he is Lord of heaven and earth, dwelleth not in temples made with hands; 25 Neither is worshipped with men's hands, as though he needed any thing, seeing he giveth to all life, and breath, and all things.

Acts 17:27 That they should seek the Lord, if haply they might feel after him, and find him, though he be not far from every one of us.

Romans 11:33 O the depth of the riches both of the wisdom and knowledge of God! how unsearchable are his judgments, and his ways past finding out! 34 For who hath known the mind of the Lord? or who hath been his counsellor? 35 Or who hath first given to him, and it shall be recompensed unto him again? 36 For of him, and through him, and to him, are all things: to whom be glory for ever. Amen.

1 Corinthians 1:9 God is faithful, by whom ye were called unto the fellowship of his Son Jesus Christ our Lord.

1 Corinthians 14:33 For God is not the author of confusion, but of peace, as in all churches of the saints.

2 Corinthians 9:5 Therefore I thought it necessary to exhort the brethren, that they would go before unto you, and make up beforehand your bounty, whereof ye had notice before, that the same might be ready, as a matter of bounty, and not as of covetousness. 6 But this I say, He which soweth sparingly shall reap also sparingly; and he which soweth bountifully shall reap also bountifully. 7 Every man according as he purposeth in his heart, so let him give; not grudgingly, or of necessity: for God loveth a cheerful giver. 8 And God is able to make all grace abound toward you; that ye, always having all sufficiency in all things, may abound to every good work: 9 (As it is written, He hath dispersed abroad; he hath given to the poor: his righteousness remaineth for ever.

Ephesians 1:11 In whom also we have obtained an inheritance, being predestinated according to the purpose of him who worketh all things after the counsel of his own will.

Ephesians 2:4 But God, who is rich in mercy, for his great love wherewith he loved us, 5 Even when we were dead in sins, hath quickened us together with Christ, (by grace ye are saved;)

Ephesians 4:4 There is one body, and one Spirit, even as ye are called in one hope of your calling; 5 One Lord, one faith, one baptism, 6 One God and Father of all, who is above all, and through all, and in you all.

1 Thessalonians 5:24 Faithful is he that calleth you, who also will do it.

1 Timothy 1:17 Now unto the King eternal, immortal, invisible, the only wise God, be honour and glory for ever and ever. Amen.

1 Timothy 6:14 That thou keep this commandment without spot, unrebukeable, until the appearing of our Lord Jesus Christ: 15 Which in his times he shall shew, who is the blessed and only Potentate, the King of kings, and Lord of lords; 16 Who only hath immortality, dwelling in the light which no man can approach unto; whom no man hath seen, nor can see: to whom be honour and power everlasting. Amen.

James 1:13 Let no man say when he is tempted, I am tempted of God: for God cannot be tempted with evil, neither tempteth he any man: 14 But every man is tempted, when he is drawn away of his own lust, and enticed. 15 Then when lust hath conceived, it bringeth forth sin: and sin, when it is finished, bringeth forth death.

James 1:17 Every good gift and every perfect gift is from above, and cometh down from the Father of lights, with whom is no variableness, neither shadow of turning.

James 5:11 Behold, we count them happy which endure. Ye have heard of the patience of Job, and have seen the end of the Lord; that the Lord is very pitiful, and of tender mercy.

2 Peter 3:8 But, beloved, be not ignorant of this one thing, that one day is with the Lord as a thousand years, and a thousand years as one day. 9 The Lord is not slack concerning his promise, as some men count slackness; but is longsuffering to us-ward, not willing that any should perish, but that all should come to repentance.

1 John 1:5 This then is the message which we have heard of him, and declare unto you, that God is light, and in him is no darkness at all. 6 If we say that we have fellowship with him, and walk in darkness, we lie, and do not the truth: 7 But if we walk in the light, as he is in the light, we have fellowship one with another, and the blood of Jesus Christ his Son cleanseth us from all sin. 8 If we say that we have no sin, we deceive ourselves, and the truth is not in us. 9 If we confess our sins, he is faithful and just to forgive us our sins, and to cleanse us from all unrighteousness. 10 If we say that we have not sinned, we make him a liar, and his word is not in us.

1 John 3:1 Behold, what manner of love the Father hath bestowed upon us, that we should be called the sons of God: therefore the world knoweth us not, because it knew him not.

1 John 4:6 We are of God: he that knoweth God heareth us; he that is not of God heareth not us. Hereby know we the spirit of truth, and the spirit of error. 7 Beloved, let us love one another: for love is of God; and every one that loveth is born of God, and knoweth God. 8 He that loveth not knoweth not God; for God is love. 9 In this was manifested the love of God toward us, because that God sent his only begotten Son into the world, that we might live through him. 10 Herein is love, not that we loved God, but that he loved us, and sent his Son to be the propitiation for our sins. 11 Beloved, if God so loved us, we ought also to love one another. 12 No man hath seen God at any time. If we love one another, God dwelleth in us, and his love is perfected in us. 13 Hereby know we that we dwell in him, and he in us, because he hath given us of his Spirit. 14 And we have seen and do testify that the Father sent the Son to be the Saviour of the world. 15 Whosoever shall confess that Jesus is the Son of God, God dwelleth in him, and he in God. 16 And we have known and believed the love that God hath to us. God is love; and he that dwelleth in love dwelleth in God, and God in him. 17 Herein is our love made perfect, that we may have boldness in the day of judgment: because as he is, so are we in this world. 18 There is no fear in love; but perfect love casteth out fear: because fear hath torment. He that feareth is not made perfect in love. 19 We love him, because he first loved us.

Revelation 19:6 And I heard as it were the voice of a great multitude, and as the voice of many waters, and as the voice of mighty thunderings, saying, Alleluia: for the Lord God omnipotent reigneth.

---

BACK TO "THE QUIET PLACE"
Back to Index