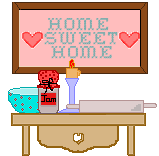 PATTY'S GINGERBREAD

Kitchener Ecclesia, Ontario, Canada

This gingerbread recipe is my own creation. In fact, many of my recipes usually end up as my own creations because I change them around so much. But modifying recipes as you go can backfire because if your family really likes them you have to try and remember what you did and write it down! This is a cozy wintertime dessert that is underrated and very easy to make.
3 cups flour
1 tsp. EACH of cinnamon, nutmeg & allspice
2 Tbls. ginger
1 tsp. salt
2 3/4 tsp. baking powder
1 tsp. baking soda mixed in 1 Tbls. warm water
1 tsp. orange zest
1/2 cup margarine
1/2 cup brown sugar
3/4 cup orange juice
3 eggs
1 cup molasses
1/2 cup warmed milk
Sift all dry ingredients together. Cream together margarine and sugar; add eggs and blend in molasses. Add dry ingredients that have been mixed in another bowl, alternately with milk, blending well after each addition. Pour batter in greased 9" x 9" pan. Bake at 350 degrees for 40-45 minutes.
This gets very high in the pan, but doesn't go over into the oven. When you cut it, it looks beautiful and high on the plate. Serve with homemade applesauce and whipped cream.
---

RETURN TO "RECIPES" PAGE

RETURN TO INDEX