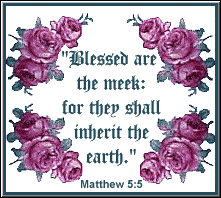 HOW CHRIST LOVES HIS GARDEN
Song of Solomon 2:8-15; 4:9-16; 6:2-3



How Christ loves his garden,
It's so very plain to see...
WE, are his lovely garden
Specially planted - YOU and ME!

His fragrant garden delights him!
With kind deeds and acts of love;
These pleasant, sweet-smelling aromas,
Ascend up to the Father above.

Christ's garden is surrounded
By angels all around;
His flowers fed, well watered
on God's Word, flourish and abound.

We remember the Lord, our Bridegroom,
His sweet face, soft voice we seek
Around the memorial table
each first day of the week.

Don't squash Christ's lovely flowers
the warning is plain and clear
All the foxes who harm the garden
have the God of Israel to fear!

We yearn to be in God's kingdom
where our bloom shall never fade.
"No more death, and no more sorrow"
Precious promises God has made.

When the Bridegroom comes a skipping,
O'er the hills for his "Bouquet"
What are you! Cactus, rose or lily?
He'll tell us on Judgment Day