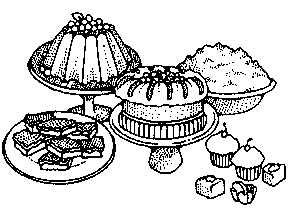 PATTY'S CHOCOLATE DATE CAKE
Kitchener Ecclesia, Ontario, Canada















This cake took a lot of times to get it right, but it's delicious! Hope you like it.
2 1/2 cups dates, cut-up
1 1/2 cups brown sugar
1 cup boiling water
1 cup margarine
Wet Ingredients:
1 tsp. vanilla
1 12-Oz. pkg. chocolate chips
4 eggs, unbeaten
1 cup orange juice
1 cup milk
2 cups walnuts
Dry Ingredients:
2 1/2 cups flour
1 1/2 tsp. baking soda
1 1/2 tsp. baking powder
1/2 tsp. salt
Cook dates, brown sugar, water and margarine together until dates are soft. Remove from heat. Mix together all wet ingredients and add to date mixture. Mix all dry ingredients together and add gradually. Pour into a 9 inch x 13 inch greased baking dish and bake for 30 minutes in a 350 degree oven.
TOPPING:
1/3 cup margarine
1 cup brown sugar
3 Tbsp. cream or milk
1 cup coconut
Combine margarine, brown sugar and cream or milk in a saucepan; heat and stir until it comes to full, rolling boil. Can do this in microwave. Remove from heat and add 1 cup coconut and stir. Spoon over cake as soon as it comes out of oven. Broil until golden about 2-3 minutes.
---

RETURN TO "RECIPES" PAGE

RETURN TO INDEX