Classic Chicken Pot Pie
Royal Oak Ecclesia, Michigan















Last year when Sis. Debi Wilhoit and her beautiful daughter, Sarah, came down to Texas from Michigan to visit us, they made two of these delicious pot pies to take to the weekly shared supper after our Wednesday night Bible Class. They were a welcomed treat for all. I not only enjoyed eating them but was blessed to watch this efficient mother-daughter team working together in my kitchen making them.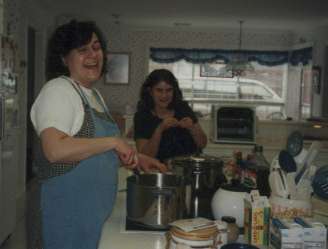 This mother-daughter team not only adds the secret ingredient of love, but also that healing ingredient of laughter! Debi is stirring the melted butter and onion while in the second pot fresh vegetables are simmering. Sarah is boning a fresh roasted chicken that was just taken out of the rotisserie on the back counter. You can see the flour canister, salt and pepper lined up for the next step; and behind that the two boxes of chicken broth. Anyone that knows Sis. Debi appreciates her organization skills, she cooks the same way. It's a joy to watch.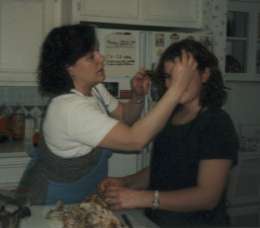 This was a sweet moment. Sarah, who did not balk at the boning-the-chicken job (certainly not my favorite task), was troubled by her hair falling in her eyes. Mom tenderly brushed back her hair, taking her time to enjoy fussing over her daughter.
Here is Sis. Debi's homey and delicious Chicken Pot Pie recipe, which tastes better if made with love and laughter.
This recipe is for one pie.
1 (15 oz.) pkg. Pillsbury Refrigerated Pie Crusts (or make your own)
Filling:
1/3 cup margarine or butter
1/3 cup chopped onion
1/3 cup flour
1/2 teaspoon salt
1/4 teaspoon pepper
1 1/2 cups chicken broth
2/3 cup milk
2 1/2 to 3 cups shredded, cooked chicken or turkey
2 cups fresh cooked or frozen mixed vegetables, thaw
directions:
Heat oven to 350 degrees F. Prepare pie crusts as directed on package for two crust pie using 9 inch pie pan.
In a medium saucepan, melt margarine over medium heat. Add onion; cook 2 minutes or until tender. Stir in flour, salt and pepper until well blended. Gradually stir in broth and milk; cook, stirring constantly, until bubbly and thickened.
Add chicken and mixed vegetables; remove from heat. Spoon chicken mixture into crust-lined pan. Top with second crust and flute; cut slits in several places.
Bake at 350 degrees F. for one hour until crust is golden brown. Let cool 5 minutes before serving. (Can be baked @ 425 degrees F. for 30-40 minutes if in a hurry.)
---

RETURN TO "RECIPES" PAGE

RETURN TO INDEX