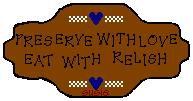 TEXAS CHILI SAUCE
Kitchener Ecclesia, Ontario, Canada

Jim and I do a lot of pickling and putting away relishes every year. This is the best Chili Sauce Recipe I've ever had.
16 cups peeled and chopped ripe tomatoes (about 32 medium)
2 cups chopped onions
2 large chopped sweet red peppers
1 tsp. whole cloves
1 tsp. allspice
1 stick cinnamon, broken up
2 cloves garlic, peeled
1 dry chili pepper
1 cup brown sugar, packed
3 cups white vinegar
2 Tbsp. salt (I use a little less)
Combine first three ingredients in large, heavy pot. Tie cloves, allspice, cinnamon, garlic and chili pepper in a small cheesecloth bag and add to vegetables. Bring to a boil over high heat and cook rapidly, stirring constantly, until only about 1/2 the original amount remains in the pot (about 30 minutes). Add all remaining ingredients and bring to a boil. Boil 5 minutes, stirring constantly. Discard spices in bag. Ladle into sterilized jars and seal. Makes about 6 pints.
---

RETURN TO "RECIPES" PAGE

RETURN TO INDEX