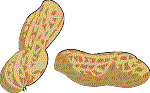 Chocolate Peanut Butter Brownies
Westerly Ecclesia, Rhode Island, U.S.

This recipe is simple, simple, simple and so good!
1 box brownie mix
1 1/2 cups confectioner's sugar
1/2 cup creamy peanut butter
1/4 cup butter softened
2 tablespoons light cream (2 to 3)
Bake brownies according to package directions. Beat confectioner's sugar, peanut butter & butter until well blended. Add cream until mixture reaches desired spreading consistency. Spread over cooled brownies, cover and chill until firm.
Glaze: melt 1 square baking chocolate and 1 TBSP butter. Drizzle over peanut butter topping.
Chill before cutting.
Keep refrigerated.
---

RETURN TO "RECIPES" PAGE

RETURN TO INDEX