Sand Castle Brownie Mix
Westerly Ecclesia, Rhode Island, U.S.A.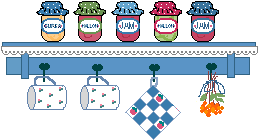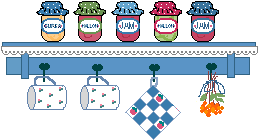 This make-ahead brownie mix is fun to assemble, convenient to have on hand, economical compared to commercial mixes, and makes a unique gift. The best part is that this mix makes a very delicious brownie. My husband, Bro. Darren, even helps me to assemble these pretty jars. He likes to do the layering of the ingredients into a quart Ball jar. We then cover the tops with squares of pretty material and add a string or ribbon tie that has the recipe and instructions looped through the tied bow.
Ingredients for layering:
1/3 cup chopped nuts
1/2 cup semisweet chocolate chips
1/3 cup flaked coconut
2/3 cup packed brown sugar
3/4 cup sugar
1/3 cup baking cocoa
1-1/2 cups all-purpose flour
Additional Ingredients:
2 eggs
2/3 cup vegetable oil
1 teaspoon vanilla extract
Assembly Instruction:
In a one quart glass container (I use Ball jars but any pretty jar will do), layer the first seven ingredients in order listed, packing well between each layer. Tightly cover and store in a cool dry place for up to 6 months.
To Prepare Brownies:
In a bowl, combine eggs, oil vanilla and brownie mix; mix well. Spread into a greased 8 inch square baking pan. Bake at 350 degrees F. for 30 minutes or until a toothpick inserted near the center comes out clean. Cool on a wire rack. Makes about 2 dozen.



---

RETURN TO "RECIPES" PAGE

RETURN TO INDEX