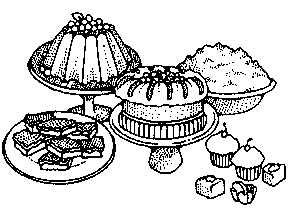 AUNT PATTY'S FUDGY BROWNIES
Kitchener Ecclesia, Ontario, Canada















This is a recipe I am asked to make for the Sr. CYC when it's my turn to provide refreshments.
This is my own recipe, after not liking any others. They were too dry or too cakey. This one is just right!
2 cup flour
1 tsp. baking powder
1/4 tsp. salt
2 cups white sugar
1 cup brown sugar
1 1/4 cocoa powder
2 tsp. vanilla
1 1/2 cups oil or butter
7 eggs (yeah!-7)
1/4 cup water
1/2 cup chopped walnuts
2 tsp. instant coffee, dissolved in 1 Tbsp. hot water
Put all in mixer in order given and beat on low, scraping down sides - don't beat too long. Oil a 13" x 9" pan and turn in batter. Bake at 350 degrees for 30 minutes. NO MORE!! Dries out.
RICH CHOCOLATE ICING
Melt 2 squares unsweetened chocolate; stir in 1 cup icing sugar, one egg, beaten; 2 Tbsp. margarine, 1 tsp. vanilla
---

RETURN TO "RECIPES" PAGE

RETURN TO INDEX