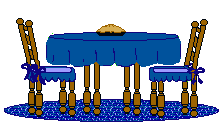 DELUXE BLACKBERRY PIE
Kitchener Ecclesia, Ontario, Canada

Here's a summer pie recipe and it's quite different from any other blackberry pie I've had. The crust recipe that follows is the best one I've used for a food processor.
4 cups blackberries
1 1/4 cup sugar
4 Tbsp. cornstarch
2-3 Tbsp. blackberry brandy or liquor
1 Tbsp. nutmeg
1 Tbsp. cinnamon
1 double pie crust recipe
white sugar
Mix sugar, cornstarch, brandy, nutmeg and cinnamon together in large bowl. Add berries gently, being careful not to crush them. Fill pie shell with bottom crust -add berry mixture evenly. (I always cut up butter or margarine in small pieces and put on top of any berry pie, then add top crust. Cut slits in crust, sprinkle with sugar. Bake at 400 degrees F. for 15 min; lower to 375 degrees F. and bake for 30 min. longer or until golden.

FLAKY FOOD PROCESSOR PIE CRUST
1 1/2 cup all-purpose flour
4 Tbsp. butter or margarine, cut up
5 Tbsp. shortening, cut up
1/2 tsp. salt
3-4 Tbsp. ice (or very cold) water
Make as you would any crust recipe for food processor.
---

RETURN TO "RECIPES" PAGE

RETURN TO INDEX